Less than 17% of principals and assistant principals believe the district is prepared and ready to open schools. That is according to a survey executed by the Chicago Principals and Administrators Association (see full results below). More than 370 principals and assistant principals responded.
In the coming week, CPAA will release a strategic roadmap for a safe reopening. However, we must first listen to the voices of principals--the people charged with making CPS's current reopening plan work--to understand the folly of the district's current approach and help the public understand why a different course of action is necessary.
Respondents left 562 comments in five question categories. I read, grouped, and categorized all 562 comments to better understand the challenges administrators are faced with and clearly articulate those challenges to CPS officials, parents, students, elected officials, and to the public. The responses are organized into five sections. Each section lists concerns and essential needs based on those concerns. Below, we listed those comments that are most representative of the overall survey results. We also included some diverging outlier comments to represent the full scope of the opinions of CPS school leaders. The inclusion of any individual comment does not mean it is endorsed or sanctioned by CPAA, its President, or its Governing Board.
REOPENING SURVEY RESULTS
Section 1: Staffing for Reopening
Survey Data
Less than 22% of respondents felt they had adequate staff to reopen.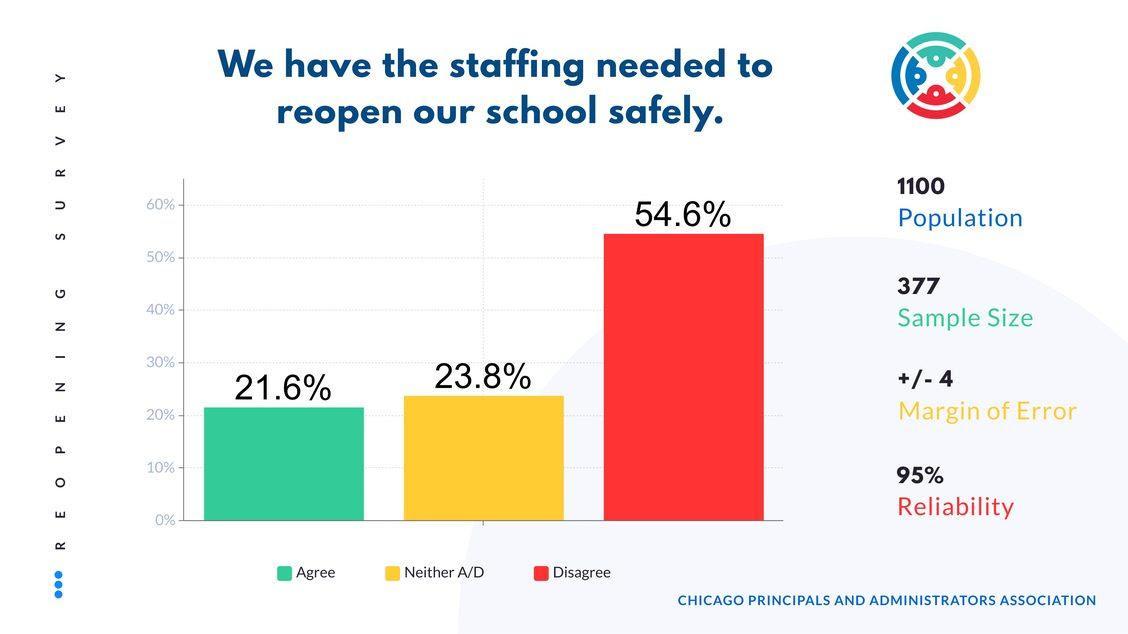 Concerns
Talent Department Delays and Unresponsiveness
I am most worried about staffing. All but one of my staff's ADA requests are still "pending", which is making it difficult to schedule. We were told this would be completed by January 4.

There are too many unknowns with staffing. The talent department has been no help.

We're asked to create schedules when we don't even know which teachers are returning.

The short timespan between ADA decisions and reopening is unrealistic

You cannot truly plan because you are not sure of who will actually report.

People can apply on an ongoing basis, which puts the school in a hard situation finding coverage.

I asked for Talent support and consultation since the first reopening. My issues have been escalated, but I still haven't been contacted.

I do not yet know which K-8 staff will be approved for a leave of absence, making it EXTREMELY difficult to plan and communicate to families.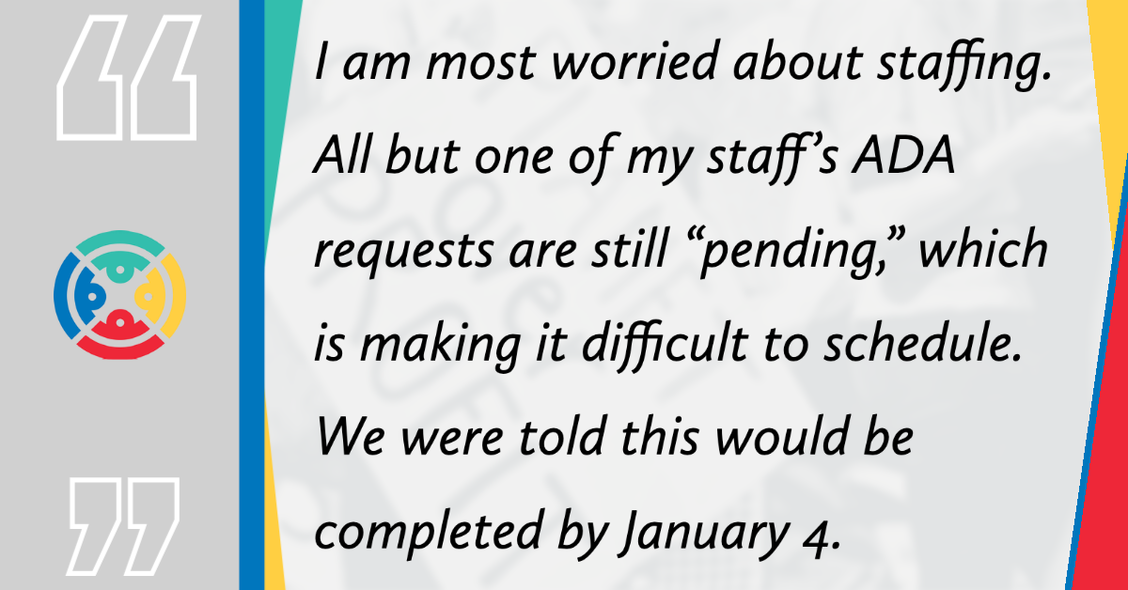 Staffing Shortages
The numbers do not add up. We have been given a cadre and a miscellaneous worker. If you have one cadre and one miscellaneous worker, how can you cover all classes and make sure all CTU guidelines (preps) are met? I've gotten no answers from the district.

In-person students will be left with non-certified teaching staff.

The substitutes are not qualified to handle the level of supervision required.

I am worried that any little set-back can have a huge effect on coverage for students. Where are we going to get additional staff to cover students when a teacher is removed or gets ill? We could barely get subs when things were normal.

Staff members granted ADA accommodations do not qualify for a TAT [temporarily assigned teacher]. It leaves us short-handed at school.

I am still seeking to hire cadre teachers. This is taking place in competition with all the other schools that are also seeking to hire cadre staff.

CPS opens positions, but there is no talent pool from which to draw. It's every school for themselves.

Cadre positions were given, then taken away, then given back. All that time wasted could have been time to hire cadres that we need now.

PreK staff received permission to work remotely. This is great for them and meets their family needs, but we are in a crunch to find the staff to support the PreK students that are returning.

Why hasn't CPS already built an arsenal of hourly workers? Subs? How does it make sense to throw this all on principals?

It seems naïve to think we can open with our current staffing plans.

I have enough staff for this first round but not for K-8

Having to check that every child has done the health screener will take a very long time with one person at the doors.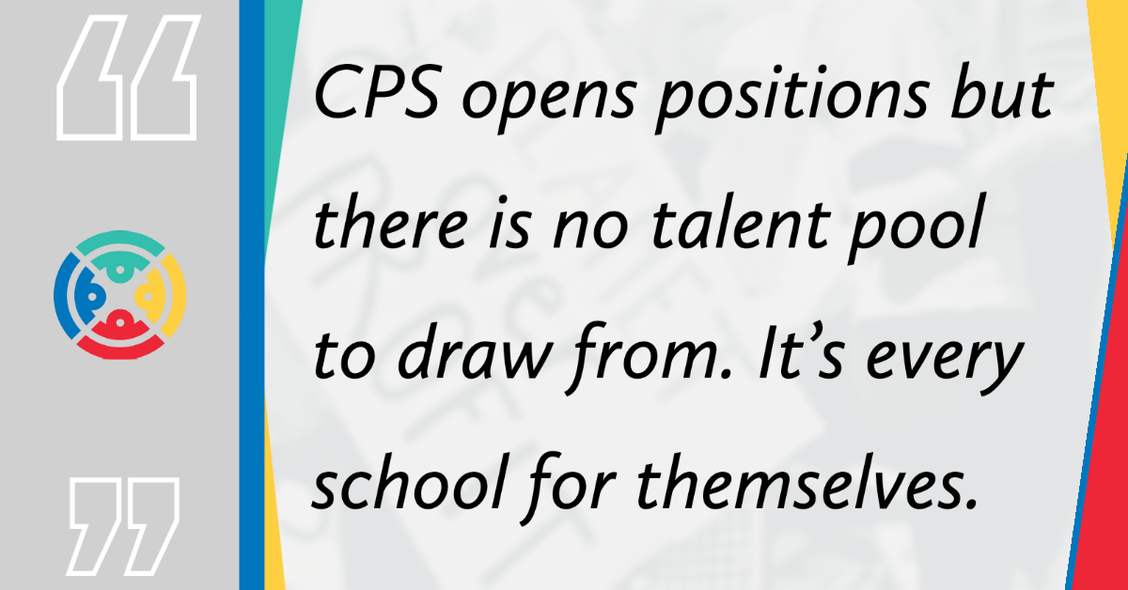 Teachers Required to Report In-Person Unnecessarily
We have more than a dozen staff returning for less than three students.

We have less than five students allegedly reporting for in-person neither in attendance today.
Essential Needs
Staffing Uncertainty Due to Talent Office Delays of Accommodation Decisions
The district must provide all schools with a determination of ADA accommodation requests and all other information they need to know which teachers and staff are slated to report to school.

Make a determination on ADA accommodations now. We can't wait for last minute decisions. It's challenging to get the staffing needed.

We need more scheduling support. It is a nightmare.
Empty Positions Do Not Meet Student Needs
Clear, realistic staffing models with candidates that have already cleared the hiring process.

Provide a pool of Cadre staff and assign them to the schools versus requiring school administrators to carve out time to sift through applications and interviews, all while preparing to open the building.

The district must conduct an analysis of individual school staffing readiness to identify schools in need and either provide support or delay reopening until staffing is solidified.

Assess staffing readiness based on filled positions, not open but unfilled positions.
Health Specific Staffing
Health care professionals, including counselors, should be allocated to every school

On-site clinicians (not shared), especially a Nurse based on the characteristics and community we serve. We needed this before COVID and need it more so NOW.

Staffing to support the management of PPE and other materials - Our admin team can't run the school and manage all of these new protocols simultaneously.

Having equipment is not good enough. We need people to supervise students to keep them socially distanced.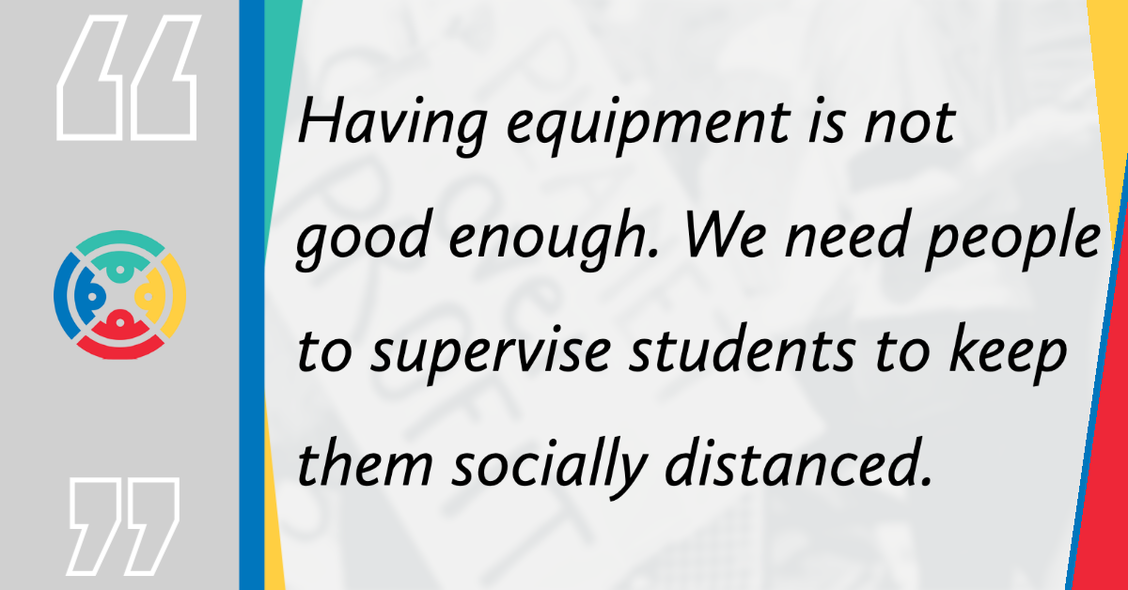 Section 2: District Guidance
Survey Data
Less than 28% of school leaders believe CPS provided sufficient reopening guidance.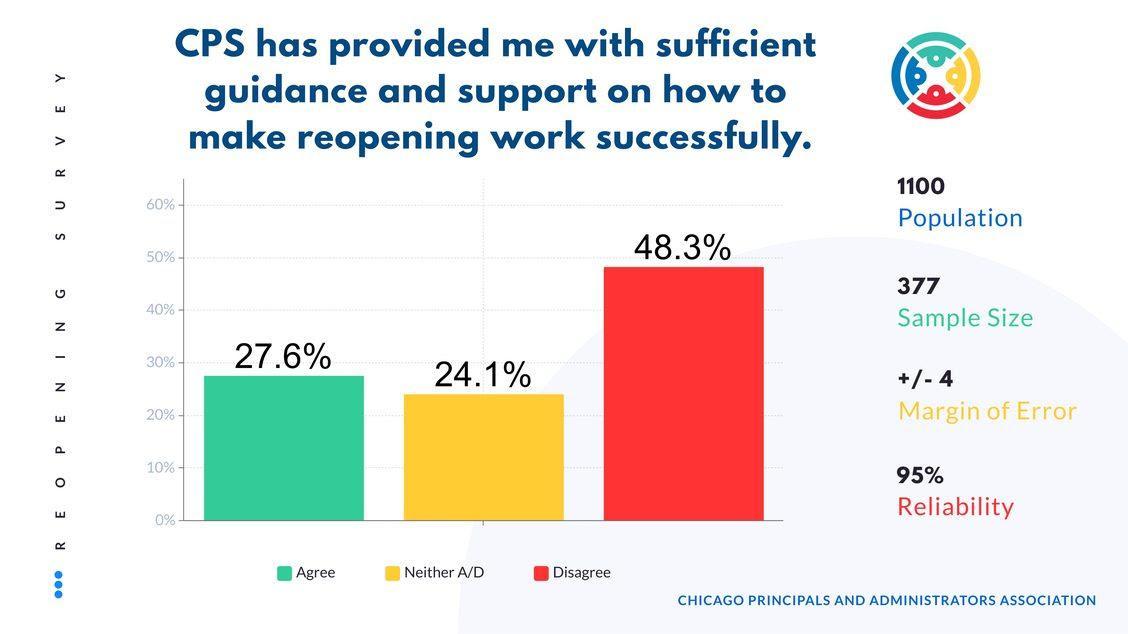 Concerns
Lack of Resource and Support to Implement the Guidance
There are 200 pages of "guidance," but no additional staff to make it happen.

All they send is documents, but we need resources and support.

What good is the guidance when what I really need to know is "Who is coming back" (from a staffing perspective)?
The guidance leaves critical questions unanswered.
There is still so much up in the air, and we're told, "guidance is forthcoming".

Making the mess work locally for our families and staff falls squarely on principals' shoulders. The reopening guidance is long and muddled, and whenever we ask questions, they refer us back to it—the 175-page document with links to other documents and guidance.

Unclear guidance under the guise of "flexibility" you are left to "be creative" (figure it out)

They are continually revising plans and placing the majority of responsibility on school administration.

There is a lot of guidance, almost too much to navigate. However, when guidance leads to follow-up questions for clarification, there are not a lot of answers related to specifics.

The "guidance" is merely a checklist. There is no real guidance for us; we are supposed to figure it all out.

We have enough protective supplies, but our staff members are concerned about our cluster students' abilities to use those supplies correctly and consistently, given their different sensorimotor and intellective capacities.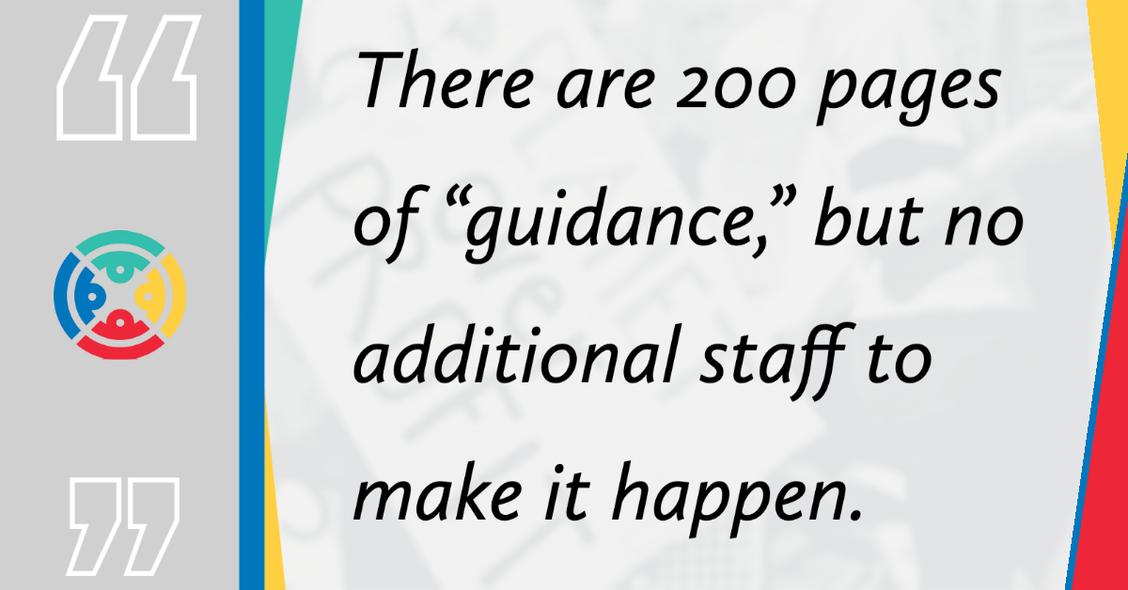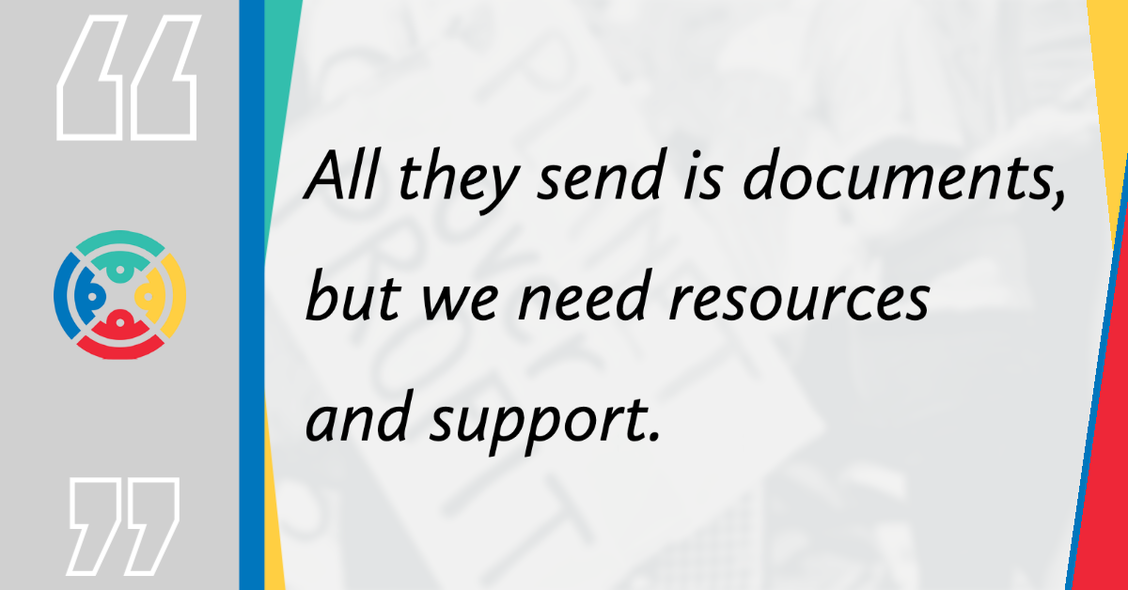 Essential Needs
Transparency and Pragmatism
The truth

Clear communication and honest answers

A clear cut realistic plan
Specifics
Clearer guidance on health protocols

Clear guidance on what to do if a student or staff member gets sick with COVID

Please provide detailed guidance regarding what to do when there's a question about whether a teacher purposely failed the health screener, etc. We are made to be monsters when we only have the district's current general guidance.

A clear structure as to how all processes are to occur.
Section 3: Readiness
Survey Results
Less than 17% of school leaders believe the district is ready for in-person learning.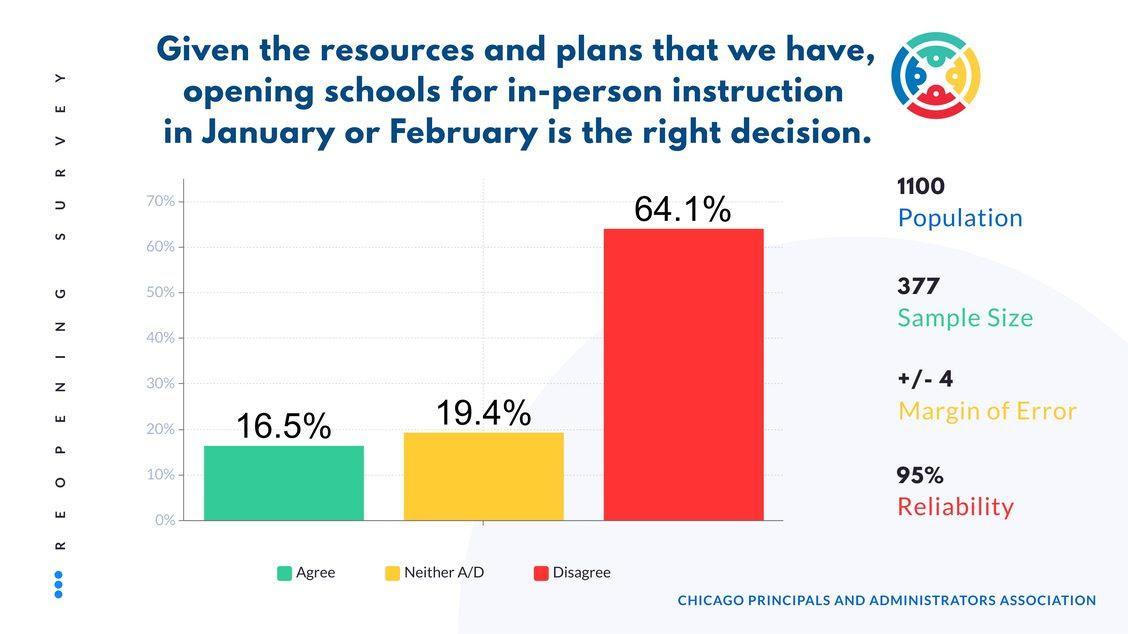 Concerns
Uncertainty and District Inadequacy
This is the most awful thing I have ever had to do. I feel so confused and uncomfortable

There are still a lot of questions. I want the kids to come back but I also do not want to feel like I'm lying to them when I say the building is safe and ready.

If reopening was a priority, why weren't we provided the actual time, space, and resources to do so?
District Failure to Set Specific Scientific Reopening Critieria
It doesn't matter what PPE they give us. If the Covid-19 numbers are still rising, then it is still not safe.
A Failure of Government and Politics in General to take a Holistic Approach
I am a caregiver to my mom, who is in a high-risk group because of her health and age. I feel pushed up against a wall. Not fulfilling my job, will jeopardize my career, but it also will jeopardize my mom's health. Current roll-out systems for inoculations of seniors has not happened .... Until that failure is rectified, I don't think any politicians have a right to require us to jeopardize the health of our loved ones. This gross oversight and lack of concern demand accountability beyond district officials, to all those in positions of advocating for their communities--city council members, CBOE leaders, and other representatives!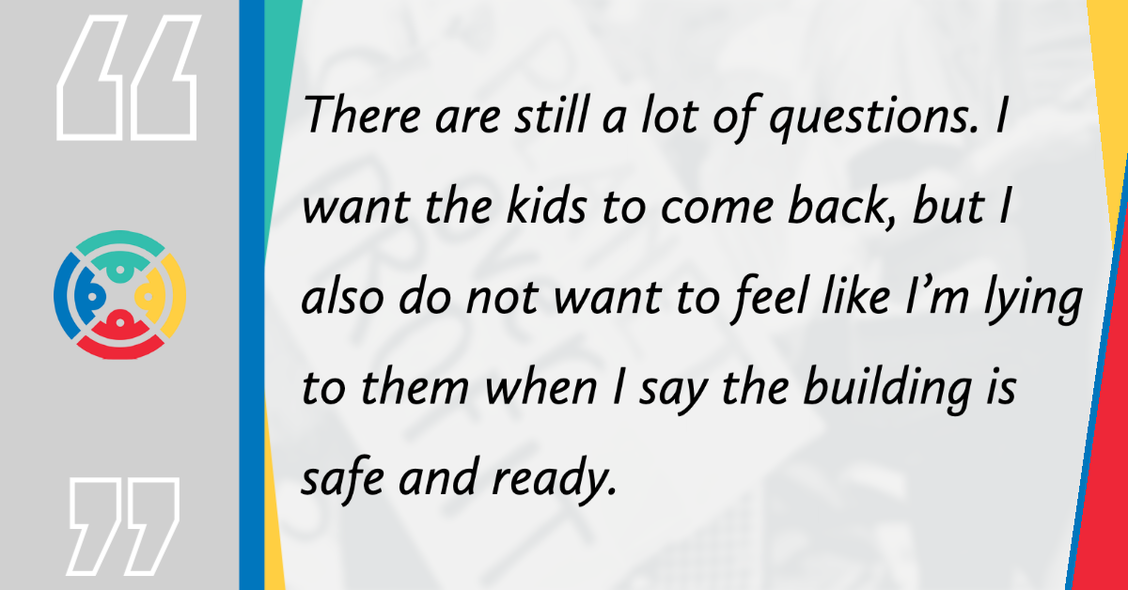 Essential Needs
Use Clear Reopening Criteria
Stick to the numbers set in the spring regarding positivity rates and daily cases.

Remote learning should continue until students and staff are vaccinated.

Postpone until it's safe.

Patience. Given the new strain and increasing positivity, wait for a vaccination.

A vaccine made available to educators.

To not open schools until everyone is vaccinated and safe

Wait until the covid rate is less than 5%, and the number of new cases per 100k is less than 20

Hold off on opening to in-school instruction at least until April when the vaccine may be available to staff and students.
End the one-size-fits-all approach
Require Local School Council approval for reopening

I would like to open. My families would like to open. Can't there be a pilot of some sort--a couple of grades and/or a couple of schools.

Reduced day (half day) for hybrid students.
Provide time to get it right
We feel a sense of being rushed, and the plans are too unsure to guarantee safety

More time to sufficiently plan to get this right.

Have everything ready to go--not "it will get here soon."

Ample training and time for teachers to learn how to teach in this model. Staff!

More time to reopen

The district should consider shortened schedules to assist with mitigation and school safety and to ensure equity in access to schools.
Section 4: Instruction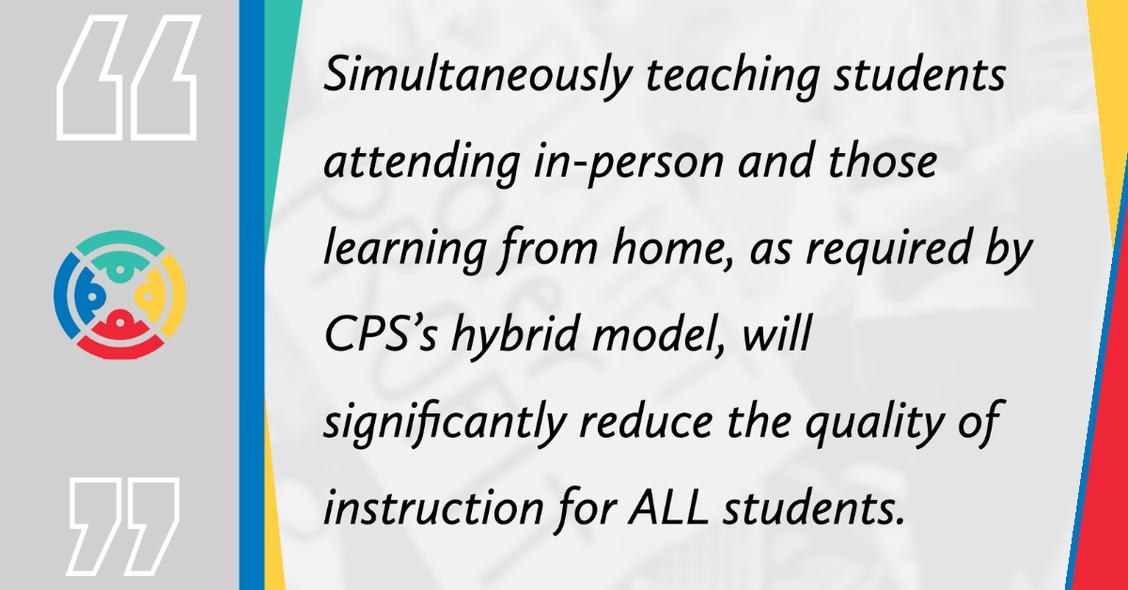 Note: Although there was no survey question on instruction, several respondents left instruction related comments.
Concerns
Simultaneous teaching will degrade the quality of instruction
Simultaneously teaching students attending in person and those learning from home, as required by CPS's hybrid model, will significantly reduce the quality of instruction for ALL students.

The overall plan is asking far too much of teachers. To teach cluster students both in person and online simultaneously is a disservice.

Asking teachers to teach hybrid/simultaneously will not be good for the students or the teachers.
Internet bandwidth limitation will exacerbate instructional challenges
We recently learned that bandwidth limitations will prevent students in the building from logging into Google Meets to interact with their peers learning from home, essentially segregating the two cohorts. I don't see any way that this model will be successful from an instructional standpoint.

My technology coordinator just informed us that we don't have enough bandwidth to support students on Google Meets when they are in person learning. This will be a problem now for my middle school classrooms. The teachers might have to switch classes each period, increasing their risk for possible exposure/cross-contamination of pods.
Essential Needs
Staffing Support for Simultaneous Teaching
Staffing for rooms where the teacher is teaching remotely

Personnel to support in person learning and remote learning
Professional Development Support for Simultaneous Teaching
A model to show how teachers are going to teach remotely and simultaneously.

Cps to actually come to schools to see what we are dealing with and model simultaneous teaching!

Provide teachers and principals with models and professional development on how to teach students remotely and in-person simultaneously without doing a disservice to one or the other group of students.
Section 5: Prevention - Protocols, PPE, Equipment, Facilities, and Bussing
Less than 44% of respondents believed they had an adequate amount of PPE.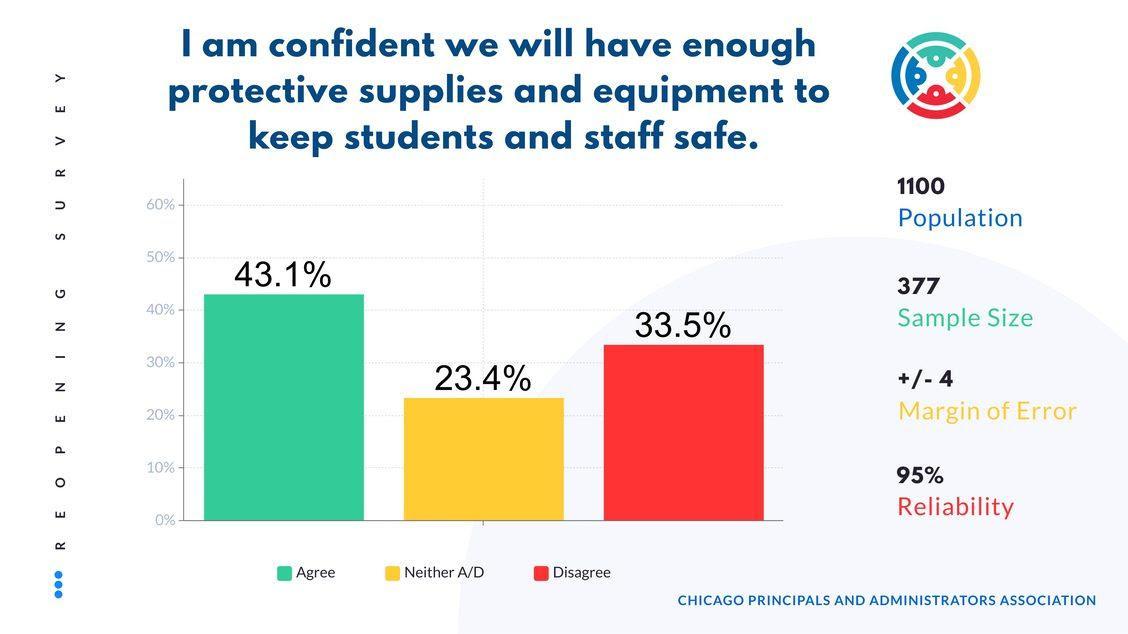 Concerns
Inadequate Ventilation and Filtration
Repairs are needed to our ventilation system, and I am not confident that they will come by 2/1.

CPS has only provided us with three air purifiers and two containers of disinfectant cleaners.

No air filters in classrooms

No hand sanitizer for dispensers

Ventilation is a serious concern, given we are in winter in Chicago, it will be difficult to have windows open without freezing ourselves.

There has been no communication notice about filters to replace those in the air purifiers.

We have only received two air purifiers to date. Far short of one for every classroom.

CPS's idea of air quality is "If the room has a window, then we are good." Our old school building does not have a ventilation system. The resolution CPS gave us is to keep the windows slightly open.
Unsatisfactory School Cleanliness
It is no secret that we have always struggled with maintaining our buildings clean, now with this added pandemic; this is not realistic.

I am still not clear on custodial support as well.
School Spending Instructional Funds on PPE Due to Inadequate Supply from the District
The improvement in our PPE status is due to spending more than $20,000 in school funds to enhance what is being sent by the district.

Our school had to use our own funds to supply our staff adequately. However, not all schools have the funds to do the same.

I bought nearly $10,000 of extra PPE supplies...just in case.

CPS has provided equipment that is either ineffective or insufficient. We have used school funds to purchase any other PPE needed to protect our staff, students, and ourselves sufficiently.

We got a total of 6 sneeze guards for the whole school.

None of our offices have air purifiers.

I believe that we will need more gowns but we have been told we can request more through our Aramark Operations Manager.
There are Serious Doubts about CPS's Ability to Replenish PPE Supplies
I am worried that once supplies are used, they will not be replenished in a timely manner.

While I have plenty in stock now, I don't know what that will look like with hundreds of students in the building.

We might have enough to start but I question how quickly items will be restocked.

We have initial equipment - I'm incredibly worried about replenishment.

We have received our complete allotment, so I am less than optimistic we will be able to meet the supply needs after the initial distribution.

The wipes and mask will only last a month. What happens after that.

Most of our students need assistance with personal care. They only gave us 100 gowns. That may last us 1 week. We need many more gowns. We expressed this early on.

I had to get masks from a nurse friend when we initially re-opened--it took CPS weeks to get us any. I do not trust them to have the right supplies in a timely fashion since they did not in the past.

There is PPE and technology that was supposed to be delivered that has not made it into the building as of yet.

Although, I am concerned that once the PPE materials run out, CPS will not replenish.
Limitations of PPE
We need policies for mask-wearing and strict support to return individuals not wearing masks to remote learning.

I'm not sure if my cluster student will even wear the mask. I'm worried about keeping my staff AND the student safe.

We have plenty of "stuff," but I'm not sure that is what will keep us safe.

The bigger concern is the lack of possible human resources to support students in Wave 2 rather than the supplies. There is currently a process in place to request more supplies as needed.

The air purifiers are loud and very small for the size of our classrooms.
CPS Has Provided No Answers to Critical Questions about Bussing
How do principals ensure student and staff safety when CPS is allowing students in many circumstances to cross pods both in the school building and on school buses?

I am concerned about the bussing situation in which we have had no guidance around bus schedules and students sharing the bus routes with other schools. Students from different "pods" will share the buses; there have been no answers to any of our questions concerning this.

We still have time, but we don't have all the information we need. Bussing for instance, is something we have zero insight on at this time.
Need Specific Guidance on Handling Positive COVID-19 Cases
What are the steps for addressing positive covid cases and how will such cases affect schools and PODS?

What happens when a student or staff member tests positive, informs the school, but doesn't report it to the district? For example, how will contact tracing and POD quarantining be handled in such situations?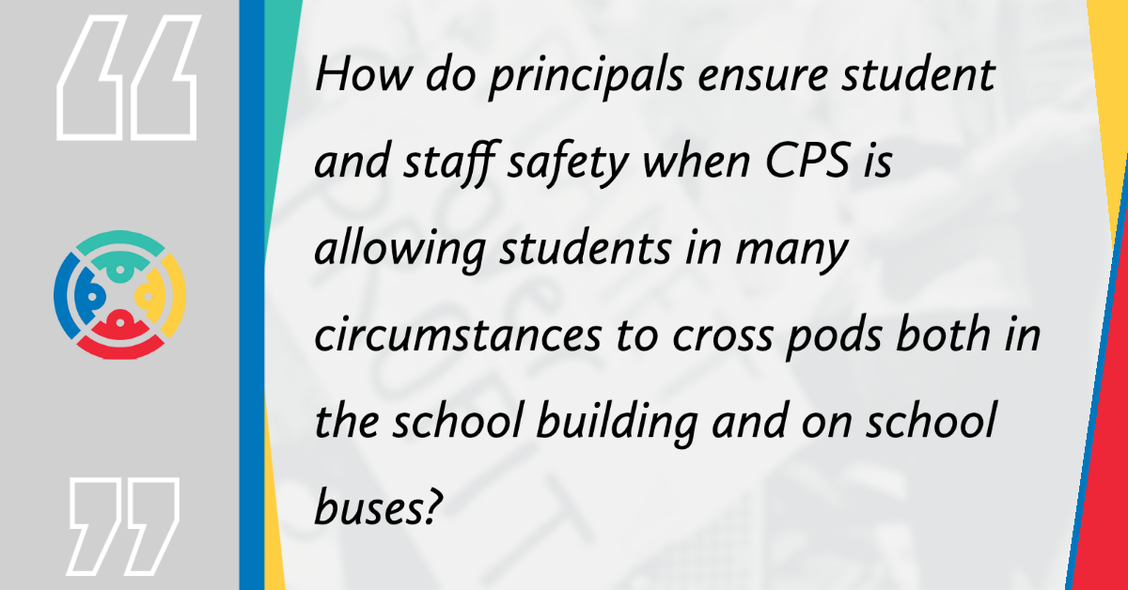 Essential Needs
Better Cleaning
The staff and materials needed to make sure the school is cleaned daily and throughout the day, especially the washrooms.

Staff Custodians to effectively clean

More qualified custodians

professional cleaning

A better custodial staff

More janitors to ensure that the building is safe
Proper Space, Air Circulation and Filtration
Every classroom must have an air purifier.

A plan to address bussing questions

Additional resources for building repairs

We need more physical space. If high schools are not reopening, can the district consider repurposing those buildings for elementary school extensions at least for now?

Air purifier in each classroom or an all encompassing air purifying/ventilation system.
Air Quality
We need air purifiers that are designed to cover a minimum of 1000 square feet.
PPE, Barriers, and Shields
We need face shields and desk shields.

Barriers or shields for students' desks would make me feel a bit more comfortable.

Invest in more plexiglass shields and other protective equipment that may lake staff feel more safe.

Teachers and students need desk guards and dividers for tables. None of that has been supplied.

We have plenty of masks. I think every classroom should also include a shield for a staff member. This will help encourage small group instruction.

Shields for all teachers

Shields for teacher desks

All schools should receive funding directly in their budgets for specialized PPE to build trust about PPE availability.
Medical Testing and Information
Twice per week covid testing

Test everyone, including students before the first day of school.

Testing for students

Regular testing of ALL staff

Data about COVID cases in Learning Hubs and Wave 1 schools should be made available publicly.  This should include the number of failed health screeners, contact tracing numbers, and non-COVID illnesses (i.e. flu, colds, etc.) as well as school staffing levels.
Troy LaRaviere, President
Chicago Principals and Administrators Association

Sources: Most Awarded - #1 Rank - ISAT Data